I've been reading more design blogs and (online) magazines lately, and there are a lot of really interesting articles out there. One example was Design for the Other 90 Percent, featured on PingMag. It basically talked about product designs or innovations that help to improve the quality of life in impoverished areas.
Here's an excerpt from the official website:
Of the world's total population of 6.5 billion, 5.8 billion people, or 90%, have little or no access to most of the products and services many of us take for granted; in fact, nearly half do not have regular access to food, clean water, or shelter. Design for the Other 90% explores a growing movement among designers to design low-cost solutions for this "other 90%." Through partnerships both local and global, individuals and organizations are finding unique ways to address the basic challenges of survival and progress faced by the world's poor and marginalized.
Some of the things thought up were really good, but the one that made me gape and think, That's brilliant! was the Q-drum.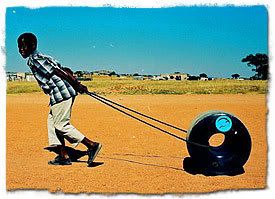 (Image from PingMag.)
The Q-drum is a water container designed for… well, for the exact purpose you see in the picture here. You can pull it instead of having to carry it. So much easier, don't you think? It looks like it would be extremely handy in places where water is hard to come by and you have to walk miles to get water. Apparently, it can take up to 75litres of water.
I can't think of any other word except "brilliant" to describe this. It's so terribly simple it makes you wonder why no one else thought it up before.
And then there's things like the Pot-in-Pot Cooler (provides a way to keep produce fresh longer, using nothing but sand, water and earthenware pots – helps the farmers and gives the local potters business) and the Solar Aid (hearing aid that runs on solar power, eliminating the need to buy expensive batteries).
What I really like about these things is that they're not only helpful to "the other 90%" but they're also largely environment-friendly. I imagine that if I could think up something that was capable of making such a huge difference in people's lives, it would be extremely satisfying. I applaud the people who thought up all these things… I can't list them all, but there's a lot of other pretty cool stuff listed on the official site, so go take a look! (Now I wonder how many of the people who read my blog will actually bother to go look… hahah)