The Odeon Cinema, AFC @ Straits Quay, a gorgeous sunset, a delicate rainbow and an interesting notice in the papers…
Was out with Eileen one evening last month and we decided to try out Ecco Cafe. Walking from the nearest parking lot to the cafe, we passed by the old Odeon. (A far cry from the Odeon I knew in Edinburgh.)

Eileen said it's one of the oldest cinemas in Penang? That's probably true. I wonder what sort of stuff it used to screen. Most of the old standalone cinemas here now screen only Bollywood films…

Didn't get any particularly great pics of Ecco Cafe, but it does have a nice, cozy "retro" ambience. There space under the stairs was used to display old, quaint bric-a-brac. They'd put a table there and piled all these things on it.

A pair of slippers perhaps once owned by a young Portugal football fan brightened up the space under the table.

The next day I was out with Eileen and other friends from school at Straits Quay. Apparently the Asian Food Channel was filming something there.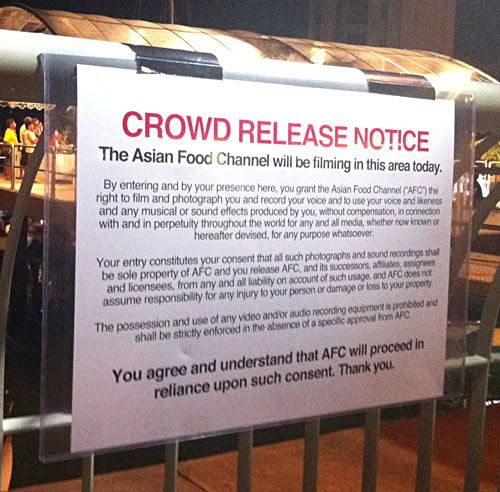 The crowd release notice. (Click to view bigger, if you want to read the text on it.)
.
A couple of weeks later I attended a relative's wedding dinner at Lone Pine Hotel. Nice location, and they were very fortunate to have great weather that evening.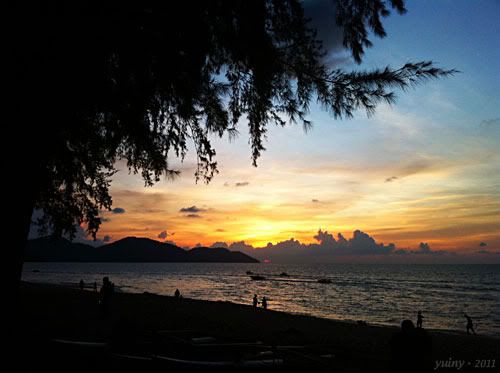 There was a rather lovely view of the sunset from the beach.

The people milling around on the beach that evening were definitely fortunate to catch that sunset.

There was a brief fireworks display when the bride and groom cut the wedding cake…
.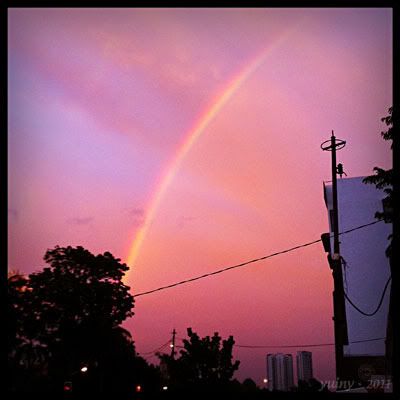 Caught sight of this beautiful rainbow when I dropped by KFC to grab a snack one evening. It was a double rainbow, actually. The second one is veeeeery faint.
.
And this…

… is the first time I've ever seen a notice disowning a child in the newspapers. Ouch. I think the son must have gotten himself involved with some loan sharks and is in debt.
.