Jo's hen party commenced on Friday afternoon when a few of us took her for lunch at Plan B in Bangsar Village, followed by a manicure+pedicure session. After that we headed to Sekeping Terasek, the bungalow Jo had rented for one night. (Some of us were meant to stay overnight with Jo and her family; and the jip san leong session would be there too.)
We'd ordered high tea from Teaffani (who did a rather nice job of it, I have to say). The spread looked like this: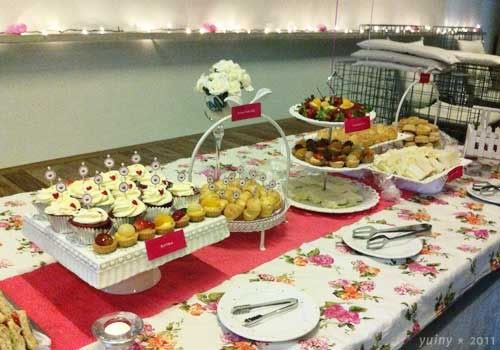 (Lights and paper flowers in the background were done by Lydia, not by Teaffani.)
I rather adored the little crown icons on the cream puffs.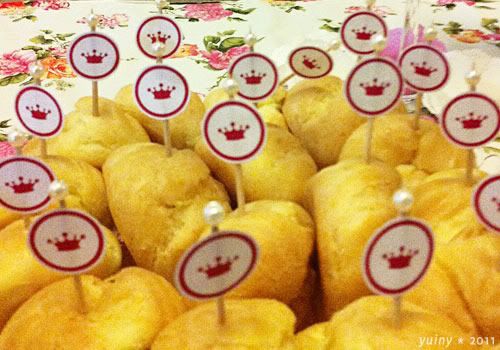 Me with the bride-to-be! This is probably my best photo of the weekend. Not great, but better than others. In subsequent photos I look kinda awful, so those ain't showin' up here. haha

There was a cool little dipping pool right next to the front door. We sat around it for a while and enjoyed having our feet in the cold water.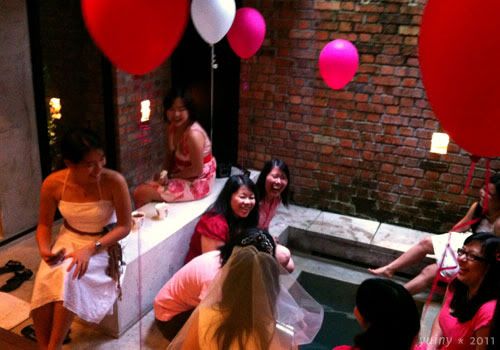 After high tea we went to BSC to find a bar to hang out at. Not exactly my favourite part of the night since I'm not keen on the whole make-the-bride (or groom)-do-embarrassing-stuff thing. Fortunately (from my point of view) we had to leave early due to the wedding being the very next day, so we were back at Terasek by 10-ish.
Later in the night there was a really nice, low-key hour or so in which some of us sat downstairs in the kitchen/dining area and just discussed stuff for the next day and talked other random stuff. Also ended up dipping our toes in the pool for a while... and contemplated throwing the key to Joanne's room into the pool as part of the jip san leong challenge. The pool looked about 3-4 feet deep so that would have been interesting, to say the least. "Okay, Ian, for your last challenge… We've dropped the key to her room in the pool. Good luck! We have an extra key but you'll have to cough up extra cash if you want that." 8D  One of his hengdais would probably have had to jump in to fish out the key. hahahaha Luckily for them we weren't that 'evil.'
I went up to sleep at 12, but my brain wouldn't turn off until 2am. Over-excited, maybe.
Nat, the maid of honour, woke me up at 6am. Ugh, I felt sooo groggy. But with the makeup artist due to arrive at 6.30, I had to get up. We cleared our room as well so that it could be used as a makeup room. It ended up doubling as Jo's room during the jip san leong too.
Jo's shoes and dress, waiting for their big moment: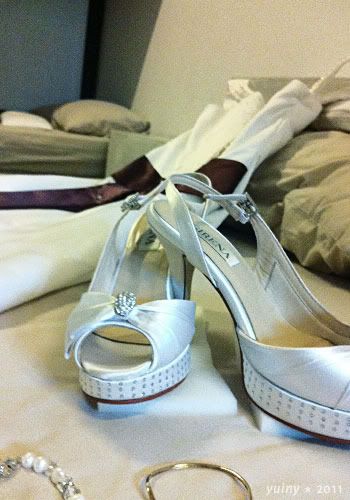 I started being insanely busy after getting my hair and makeup done – running around checking stuff and checking time. One of the photographers, Grace from Stories, arrived promptly at about 8am. (The other photographer was over at Times Square with Ian and his hengdais.) I didn't have much time to talk to her, but I managed to get in a sentence or two along the lines of "Do you know Lianne? Yeah, she's my friend!" before I had to run off to check on the jimuis and challenge preparations downstairs.
Just managed to catch Joanne in all her glory for one shot of my own when she was preparing to pose for the official photographer.

Everything went by in a blur once the fellows arrived… in their superhero T-shirts. Ian came dressed in his suit, but with a frighteningly yellow blond wig and a Thor hammer. I think all the girls were just like, "…whaaaat? hahahahahaha"
The jip san leong stuff was crazy. Fortunately the wedding ceremony itself at the church slowed the pace down a bit for me. I don't think I could have survived the day otherwise. haha
I barely had time to rest in the afternoon because for one thing, I had to iron out my silk gown (which wrinkles painfully easily) for the evening and then decided to sit down and try to sort out money stuff pertaining to the hen party and jip san leong. I had just a little bit of time to get ready before going with Nat to Banker's Club at 5-something in the evening. (We'd left the church at 2+, so that gave us very very little time in between.) She wanted to help out with the tea ceremony and double-check her speech and stuff. I just went along for the heck of it… but very quickly found I had things to do – namely set up the guest registration table and attend to the guest list.
Managed to get a photo of the wedding cake though!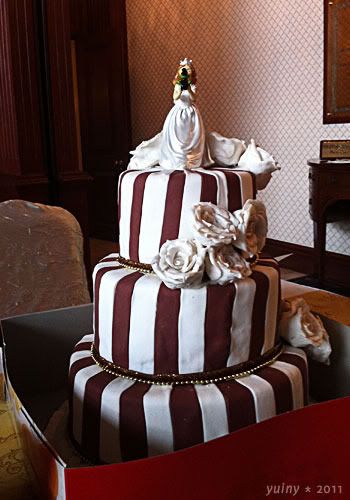 And the hall: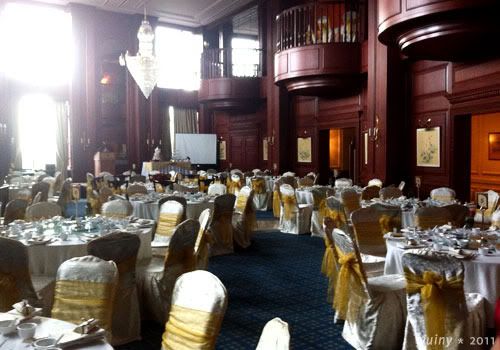 I didn't get a picture of the upper level though…
Cocktails began at 6pm, and the guests started arriving around then so I really didn't have time to sit back and relax. The other bridesmaid was supposed to help me with it but she arrived a little too late to really chip in much. It's confusing to have more than one "attendance list" so after a while, we just ditched the second list and stuck with mine, since mine would be more complete. That meant that I ended up doing the bulk of the work and though I like being of use at times like that, I like even less the sensation of someone who should be helping not really pulling her weight.
Anyway, there was some chaos regarding the guest list – thanks to people who RSVP late or RSVP through various channels (poor Jo and Ian can't keep track of Facebook, e-mail, Whatsapp, MSN and whatnot all the time). One annoying result was that Purdey and I were both "displaced" from our respective tables and we had to sit at a table where we didn't really know anyone. But a few things helped:
(1) we had each other for company (though we'd only met that morning, we've mutual friends in Joanne, Ian and Jia Wern so we knew of each other, and Purdey had helped with the guestbook stuff at the registration table so there was a mild level of acquaintance. haha)
(2) one of Ian's hengdais was at that table and he told the others, "OMG you should see what those girls made us do this morning!" which set off an initial conversation, at least
(3) I recognised Jin and May Ling, and when we got talking that did make it easier to bear
(4) there were 2 empty spaces at the table so Colin and Kevin were constantly dropping in at random times to yak with us and the others (who were all from MMU as well).
So though I was quite angry and frustrated at losing my place at my table with my friends, it didn't turn out too badly, I guess. It could have been worse.
I was one of the last to leave, apart from Ian and Joanne's immediate families. Nat and I decided to stay and help a bit until my driver arrived to pick us up. So it was about 11.15pm when we left Banker's Club, and nearly midnight when I got home. Talk about tiring.
Long and exhausting day that was frustrating as well in many ways (I shan't bore you with those details here) but also rewarding, I gess. Bottom line – if Joanne had a good time on Friday and if I saved her some headache on Saturday by taking on the headaches myself, I'm glad I did it.
.