I didn't take many photos of the wedding since I wasn't in a position to take good ones. (I was also quite tired from Jo's wedding the previous day; I flew back from KL on the 11.30am flight that Sunday.) But here are a few anyway.

Well, someone sure looks happy.
I must admit, I didn't really get to know Rachel until after I got back from the UK. She was rather on the quiet side in youth, joined much later, and we had different groups of friends. Then when Kah Wei and she got together, I was heading off to KL and spent the majority of the next 4 years there. Once back… I don't remember why we didn't hang out much, but we didn't. Next thing I knew, I was off to Scotland and only when I came back last year, did we really start interacting. She's awesome
Kah Wei, on the other hand… I must've known him since about age thirteen? Since his family moved to Penang then that should be about right. It was always huge fun hanging out with Yee Ling (his sister) and him. And we were neighbours for several years too! There's always a tonne of stuff to talk about whenever Kah Wei, Ben, Hui Jen and I are in the same room – we never seem to tire of talking about youth camp, youth meetings and CF.
Ok, I shan't ramble. Picture time!

I got there early with Hooi San and Eunice+family. San was one of the bridesmaids and Eunice was going to be the emcee for the dinner. They had these balls of white flowers hanging from stands that lined the aisle. Pretty, but rather unstable since the stands weren't fixed to the floor.

Eunice's adorable little boy, Nate, was ringbearer. When he walked in with the rings during the ceremony, there was an audible "awwww" from everyone watching. He is that cute.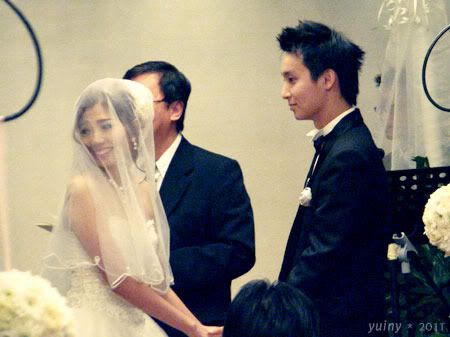 I think this was at the point where Ps. Chong Leang asked the "who gives this woman away?" question… I think. Hmm. *memory loss, getting old*

I just like this picture. Sweet. ♥  *sigh*
.
One more wedding for the year… Just one more. Hang in there, me.
.