Let's start! (Right now I feel more like skipping straight to Kyoto or Disney but I shall do this in chronological order. Yes, I shall.)
First, a shot from KLIA's international terminal.

I think I spent about 5 hours just meandering around there. Ate dinner at Burger King, hung around in MPH for a bit to read, wandered around, sat down for a bit, took advantage of the phone charging station to recharge my phone a bit. Nothing amazing.
Departure was at 11pm. It was rather surprising to find that – on a MAS flight – half the stewardesses were Japanese and the announcements were repeated in Japanese as well (by one of the stewardesses). But then most of the passengers seemed to be Japanese, so I suppose that's a good strategy…

May 27

Sunrise from the plane. They woke us up at 5am (Japan time; 4am Malaysia time) to eat. @_@ As I'd watched most of Devil Wears Prada and a bit of War Horse before falling asleep, that meant I barely got more than 3 hours of sleep. Blah.
Landed at Narita at 7.40am, met up with my friend S, and we headed immediately to Shibuya. It took us some time to find a locker that would fit my luggage. And there were so many stairs to go up and down. Exhausting work.

Behold, the famous Shibuya crossing.

Some other random street in Shibuya.

We noticed this billboard – presumably promoting some Korean pop group (those guys don't look Japanese; nor do they look the same way Japanese pop stars or "idols" do) – and had to laugh at the title of the single. "Stupid Love / COME BACK TO ME"? It's obviously two different songs featured on the single, but the combination is hilarious if you read it straight like a sentence. "Stupid love, come back to me." hahahhahahahah

This was the reason we rushed off to Shibuya from Narita: we had a 12pm lunch reservation at this place called Butlers Cafe.
I shall… save details of that for the next blog post. haha

More Shibuya crossing! Look at the number of peopleeee.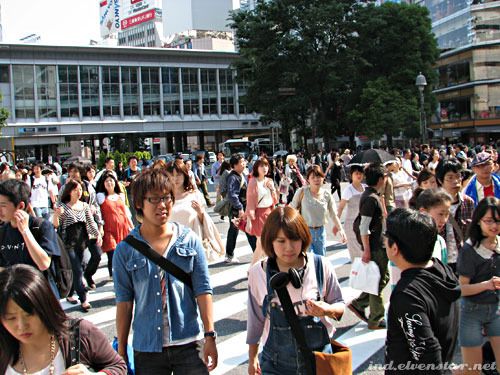 People people people.

People waiting to cross.

Crossing was interrupted by an anti-nuclear protest.

They had a little marching band.

And that's how I knew it was an anti-nuclear protest. haha

This was pretty obvious too.

The famous Hachiko statue outside Shibuya station. The story of Hachiko makes me want to cry.

We dropped by Shibuya109, a well-known shopping centre – for girls. I don't remember seeing any stores for guys in there. hahah
Oh! We also stopped somewhere to try purikura. Purikura are brightly-coloured photobooths, which apparently work magic. They give you 5 options for brightness and eye size at the beginning. We didn't though, so we chose normal eye size. And one level up from normal for brightness. This all has to be done at top speed because you're given barely 10 seconds for each choice. Then they speed through the photos – again, you have just about 10 seconds for each picture and the machine takes 6 photos. The one we used took 1 full-length pic and 5 smaller ones – just headshots. Some booths take 2 full-length pics and 4 smaller ones. It varies depending on the booth. After taking the pictures, you move on to another section where you have the chance to add decorations and draw stuff or write words on the pictures and choose backgrounds (sometimes). The booth prints out two 6x15cm sheets – one for each of you. (It's clearly meant for just two people.) The adding-stuff part has a timer as well, but I found that the timer will freeze if no one uses the booth after you. If some other people go in to take photos while you're adding stuff to your pictures, the timer will keep running to kick you out on time. A good way to make sure people don't spend an eternity on the pictures, I guess. (Those booths will be utterly confusing if you can't read Japanese. I was really fortunate to have S with me.)
I can imagine Ming and Yan spending eons going through each purikura booth. haha
And I'm convinced these photobooths have some sort of magic in them because the pictures really make you look like your skin is flawless and your eyes extra bright. Exhibit A:

There is nearly no way I'd look this nice in normal photographs without some judicious Photoshop work and a fortunate angle, or without professional hair and makeup. Purikura. Miracle machines.
Didn't go anywhere else after Shibuya109 as I was really tired. We headed to Nagareyama Ootakanomori, where S stays. It's quite a distance from the city – about 45 minutes by train. But it's a pleasant, quiet area that's slowly growing. Reminded me a bit of the King's Buildings area in Edinburgh. haha
There's a mall right next to the station. We went to have dinner and karaoke there. Karaoke was really fun for once. Here, my mostly friends want to sing songs that I don't know very well, because I don't listen to most American pop music nowadays. But I can't sing pop songs that I do know either because they're all Japanese pop songs. So this time… it all worked out. hahah (I conclude that karaoke videos are the same everywhere – completely unrelated to the songs, and mostly just scenic views of places and/or pretty girls walking randomly around and posing.)
I have also figured out which songs I do know very well and which ones I don't. For my own reference, the ones I apparently know darn well are: Sukiyanen, Osaka; Tte!!!; Kokoro no Chizu; Wish; We Can Make It; Happiness; Tsubusa ni Koi and Sakura Sake. "Second tier" songs that I can half-remember: Honey Beat; Musekinin Hero; Monjai Beat; Love So Sweet; Osaka Obachan Rock; Kyuu Jou Show.
Didn't take many pictures, and was mostly hampered by a growing tiredness as the day wore on. But I feel like it was a productive day. A day of doing "Japanese" things – like going to a butler cafe (haha), trying purikura and then going for karaoke.
.