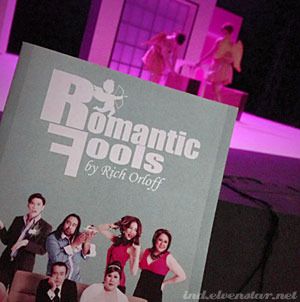 Romantic Fools is a barrel of laughs. I went to see it just now and really did enjoy it.
From genius New York playwright Rich Orloff, Romantic Fools is a comedic revue consisting of 12 two-character sketches about love, dating and romance. Directed by Reza Zainal Abidin, Romantic Fools will be led by an all-star cast featuring KL's Queen of Comedy Joanne Kam, and renowned actor Tony Eusoff as the leads, with cameo appearances by Chelsia Ng, Iedil Putra, Megat Sharizal and Sarah Shahrum.
(Taken from Penang PAC's website.)
Act 1 consists of 7 separate skits, whereas Act 2 is more like a a single story through 5 sketches. All are humorous – some more than others (my personal favourite is "The Stepford Guy", with "Spaghetti Overture" and "One Man's Secret Desire" following that) – and replete with constant jokes and jibes about love and sex. Some of the jokes were on the bawdy side, but not so vulgar that I felt put off.
The main actors throughout are Joanne Kam and Tony Eusoff, both of whom I was watching for the first time ever despite having heard their names fairly frequently. Both Joanne and Tony did marvellously. This success of this sort of play hangs a lot on comic timing as well as charisma, and I thought they delivered on all counts – plenty of charisma from them both, and excellent timing. It is also heavily dependent on dialogue and therefore, clear speech is a must. I really enjoyed the fact that nearly all the cast spoke clear, crisp English. Malaysian English is fun, and whenever it was applied in the play, it worked really well. But it's also nice to hear English spoken with very pleasant, almost foreign, yet unforced accents. (I stress the "unforced" part because there is a tendency for some local actors to try too hard to achieve an accent – and it can be really grating to listen to.)
Set design was simple, but quite effective. I did think, though, that the arrangement of some of the pieces at times did not favour the shape of Penang PAC's Stage 1 hall. If you were seated a little too far off to either side, you'd be blocked quite a bit. But perhaps that can't really be helped since it was probably designed for a KL stage rather than the stage here.
Overall, I thought it was very enjoyable. Nice to finally see Joanne Kam and Tony Eusoff perform in person too! More people need to go see this…
Also, my sister and I got a picture with both of them and Chelsia Ng!