Sue Lynn and Alvin tied the knot at the Cheong Fatt Tze Mansion, and picked a 1920s/30s Shanghai theme… The location choice resulted in two things: (1) pretty and unusual surroundings for a wedding, and (2) all the guests basically wilting from the heat and humidity because the place has no air-conditioning. I got a few decent shots of the event.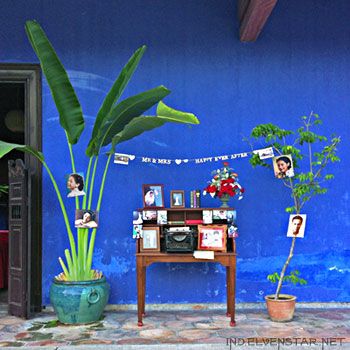 The quaint little prop table they'd set up, with photos of the bride and groom and both sets of parents on their wedding day. (And random "period-appropriate" photos stuck on the two potted plants…)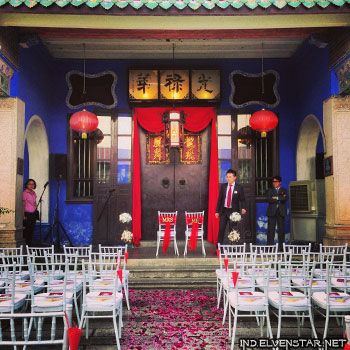 The ceremony was to be held right outside the main door.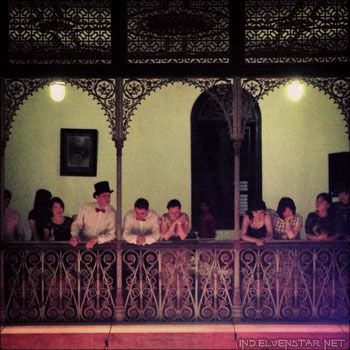 For the dinner, I was seated at a table upstairs. This proved to be interesting since the ornate railings plus the guests looking down at the proceedings below made for some rather nice pictures, like this one above.
(The guy in the top hat is one of Sue's dad's colleagues or something. A group of them came together all dressed to the nines, 1920s style – the men had coats and top hats and hats, two of the ladies were in flapper dresses, and another lady wore a wide-brimmed hat with a dress that looked slightly more '40s to me but I can let that slide. haha They really took the theme and ran with it, and it was really nice to see.)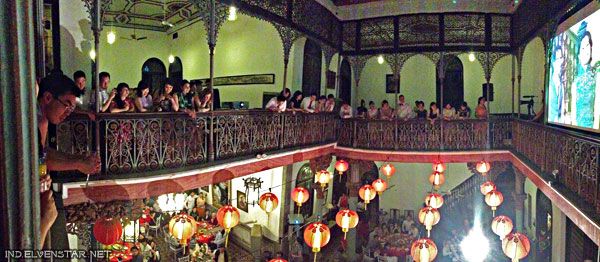 Panoramic shot of the people upstairs looking down as the bride and groom gave their speeches.
They did have a screen there (you can see it on the right of the picture above) with a live video feed so those of us upstairs could see them, but apparently most people found it more fun to look down and see the tops of their heads. haha
Ok, the end.
(I did say I got a few decent pics… heh. The others are just so-so. These are the best ones. ^_^ )