Here goes!
We – Mum and I – arrived at the Kansai International Airport at midnight and spent just about 5-6 hours catching some shuteye at the airport hotel. In the morning it was off to Tokyo via bullet train… And, well, it was oddly nice to see Tokyo Station again.
Somehow managed to find our hotel in Shinjuku, left our bags there (since we couldn't check in until 2pm and we arrived at… 12 noon?) and headed to Harajuku.

I was rather amused by this guy standing at the Yamanote line platform with a handkerchief on his head.

It was a bit rainy when we arrived in Harajuku, so the place was full of umbrellas.
Grabbed a quick lunch at McD, which, to my dismay, appears to have done away with English menus. D: (But woo, prawn filet burger!)

Wow. Interesting costumes…

What? hahahaha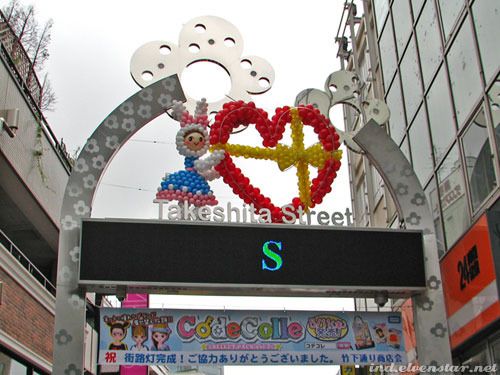 Look, look! Takeshita-dori gate in 2014 (left) and 2012 (right). It's been two years – Japan, I missed you! (Even though it's kinda draining, being in a place where I can't speak English… D: )

I didn't realise this until Mum pointed it out, but the digital board up there was projecting images from the street! So we tried to take a picture of a picture of ourselves. lol.

We wanted to see Yoyogi Park, which was right across from Takeshita-dori. Well, almost. I thought this was just one part of Yoyogi Park, but a bit more research has shown me that this is the forest that surrounds the Meiji Shrine. (But it's right next to Yoyogi Park… which you will see in the next post~ ) The last time I was in Harajuku, I had no idea Yoyogi Park was just around the corner!
Anyway, we headed into the park forest… I really really like the feeling of walking down a path surrounded by tall trees full of green leaves. The rain had stopped by then, and the weather was pret-ty darn good. Cool, but not so very humid. Great for walking in a forest!

Quite a lot of people out that day, despite the drizzles.

Water lily at the fishing spot where the Empress Shoken used to fish.

The iris garden that the Emperor Meiji created for Empress Shoken. (Most of the grounds are free to enter, but I think entry to the iris garden cost us about JPY500 each? We thought we might as well, since we were there, and anyway it was the season for the irises to be in bloom.)

Lovely purple shades. Wish there had been more in bloom though.

The Meiji Shrine itself!

Shrine maidens, or miko.

There was an ema (refresher course: ema are prayer tablets) for MH370. A sombre memory, for sure.
——————–