*feels more amenable to posting today*
I just realised that I'm finally done posting about London! We did go to Liverpool and Manchester, but I don't have any particularly good pics of those places.
Time to catch up with my Edinburgh posts, maybe?
So, after Rosslyn Chapel, next was Stirling Castle. I made the trip with two of my flatmates, Heba and Sarah.
Stirling as viewed from the outside:

Stirling's more interesting than Edinburgh Castle (for me), but the main palace was closed for renovation/conservation, which was a pity.

The view from just outside the castle – there's a cemetary right next to it.

Another view of the surrounding area – from somewhere inside the castle this time.

The Wallace Monument, rather far off…

And yay for long camera zoom!
Heba wanted to visit the Wallace Monument too but we didn't have time.

Every time I see this type of flower, all I can think of is: Alice in Wonderland flower. They just really really remind me of some of the flowers in Alice in Wonderland. The animated version, not Tim Burton's.

Our tour guide. He had a great Scottish accent – distinctly Scottish, but not so heavy that you can't understand him. And he was funny too.

Random statue. Actually, no. There was a reason I took a photo of this but now I can't remember whyyyy. Argh.

In the kitchens…

Pig's head for dinner?

Uhm. I just like the colours. HAHA.

There was a board that talked about some of the renovations that were going on. And they made that image thingy in such a way that if you looked at it from one side, you see the "before" picture of a room in the main palace, but if you looked at it from the other side, you see what it'll look like when it's done.

Random…

I've put this up before, I think. But I'll put it up again because I really like this photo.

Chapel Royal from the outside.

One of the recreated tapestries hung inside the Chapel. They're remaking a series of 7 tapestries (based off a set that's in a museum somewhere in the US) to replace the tapestries that should have been there. That was the really cool thing about Stirling for me: you could go into one of the smaller buildings and watch the weavers at work recreating the tapestries. Couldn't take photos in there, but it was so fascinating to watch! I think I just stood there for 10 minutes and watched them work. Each tapestry takes years to complete!

Close-up of tapestry.

Another finished tapestry.

And another.

Last one!

Four tapestries, finished and up on the walls of the chapel. Three more in the works…

Close-up of part of the painting on the wall of the chapel.

Roof of.. er… the Great Hall?

The ornaments on the roof.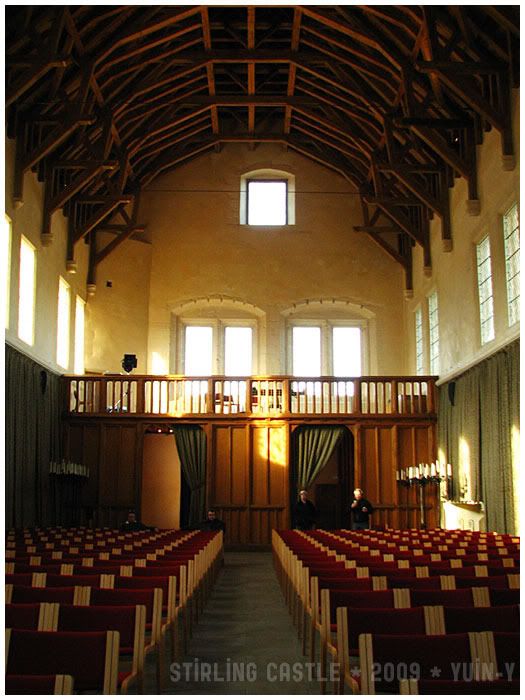 Inside the Great Hall. Those weird bluish grey screens are there for some local theatre performance there later that night.
And I end this with a couple of random views:

.